TREVOR HEARL
St Helena Britannica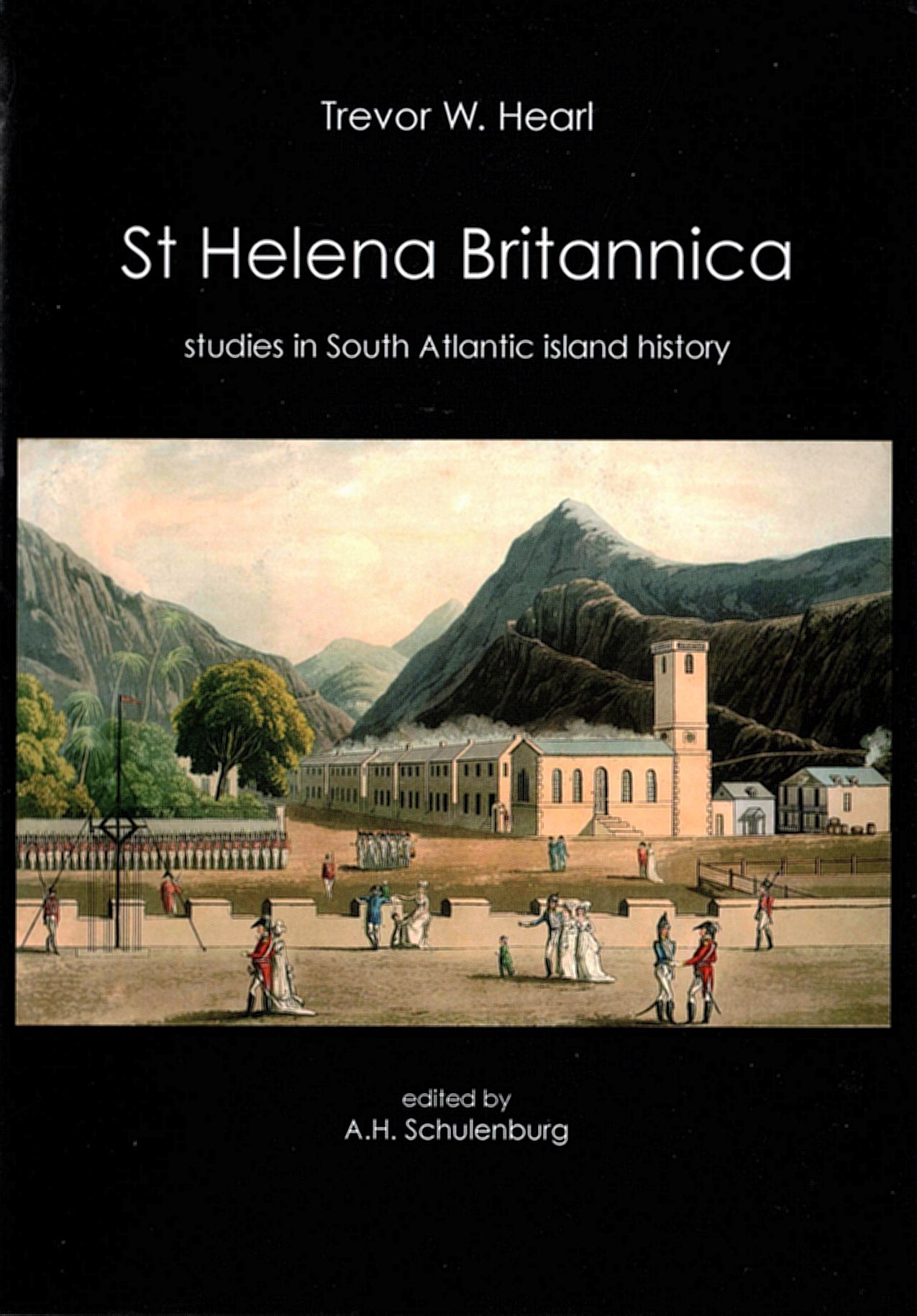 Launched at the Friends of St Helena AGM, Oxford on the 8 June 2013.
This long-awaited collection of papers on St Helena by the late Trevor W. Hearl (1924-2007) comprises an introduction and thirty chapters, as well as an editor's preface and a select bibliography of Hearl's writings on this South Atlantic island. These papers had previously been published only as typescript leaflets and in small specialist journals. The chapters cover aspects of St Helena's history from its discovery to the 1950s, including sixteenth and seventeenth-century visitors and surgeons, East India shipping, the island's Huguenots and Baptists, telegraphs, the Napoleonic period, island merchants, horse racing, Darwin and other natural historians, church memorials, photography and publishing, as well as St Helena's role as a whaling port and coaling station.
The book is of relevance to anyone with an interest in St Helena and the East India Company, as well as to readers with a general interest in the history of the British Empire.
The total contents are as follows:
Editor's Preface
About the Author (by the Author)
Introduction
Chapter 1 - The Age of Discovery and St Helena's 'Man in the Moon'
Chapter 2 - The Troubles of a 17th Century Surgeon: Francis Moore of St Helena
Chapter 3 - St Helena's Forgotten Frenchmen: The Huguenot Wine Project
Chapter 4 - A Fortress Image: The Lambert-Scott Portrait and its Plagiarists
Chapter 5 - East Indiamen via St Helena
Chapter 6 - St Helena's Pioneer Telegraph System
Chapter 7 - The Southern Whale Fishery: St Helena Rendezvous, 1780-1930
Chapter 8 - How Secure was St Helena in 1815?
Chapter 9 - Sir Hudson's Headache: The Governor, The Admiral, and Supplies for St Helena
Chapter 10 - 'Derby Days' at Deadwood: Highlights of Horse Racing at St Helena
Chapter 11 - A Curious Coincidence?: Catherine Younghusband and the Obins Memorial
Chapter 12 - Saving Napoleon's Soul at St Helena: "What Happened at Mason's Stock House"
Chapter 13 - Saul Solomon of St Helena, 1776-1852
Chapter 14 - Richard Prince/Samuel Hopewell & Co., St Helena Merchants
Chapter 15 - Darwin's Island
Chapter 16 - St Helena's Social Revolution, 1834-1869: The Evidence of the Brooke-Scott Letters
Chapter 17 - The Melliss Family and the Oakbank Letters
Chapter 18 - Consuls and Consular Agents at St Helena
Chapter 19 - Longwood Observatory
Chapter 20 - Commodore Perry at St Helena in 1853
Chapter 21 - Baptists Pioneers of St Helena
Chapter 22 - St Paul's Cathedral, St Helena: An Architectural Footnote
Chapter 23 - Some 'Anglo-Indian' and Other Memorials at St Helena
Chapter 24 - Insects and Origins
Chapter 25 - Forlorn Fortress
Chapter 26 - St Helena's Pioneer Photographer: John Isaac Lilley
Chapter 27 - The Rise and Fall of James Francis Homagee, 1846-1919
Chapter 28 - When Penal Reform was on Trial at St Helena
Chapter 29 - St Helena as a Coaling Station: A Summary of Evidence
Chapter 30 - In Search of the St Helena Magazine
Trevor W. Hearl: A Select Bibliography
Index
BOOK REVIEW
By John Pinfold
St Helena Britannica: studies in South Atlantic island history,
by Trevor W. Hearl; edited by A.H. Schulenburg. London: Society of Friends of St Helena, 2013. xxxiv + 341 pp. ISBN 978-0-9574918-0-9.
First, let us be clear what this book is not. It is not a connected narrative history of St. Helena, a kind of updated version of Philip Gosse's St Helena 1502-1938, which many (myself included) expected, and indeed urged, Trevor1 to write; nor is it an academic monograph, such as Stephen Royle's The Company's Island; rather it is a collection of some thirty articles and essays, some previously published, some not, which Trevor had worked on over many years, and intended to publish as a 'Miscellany', designed to draw attention to some areas of the island's history which he felt had been unduly neglected. Now, over six years after his death, St Helena Britannica (a title he chose himself) has finally seen the light of day; it has been worth the wait.
Written in Trevor's very readable and distinctive style (I am sure I am not alone in imagining him speaking as I read it), the thirty essays cover a time span from the 17th to the mid-20th centuries, with the greatest emphasis on the 19thcentury, and a wide variety of topics, which range from horse racing through the early telegraph system, the photography of John Isaac Lilley, and Baptism to penal reform, East Indiamen and insects, and collectively they provide a fascinating and intriguing insight into many facets of life on St. Helena. Each essay is self-contained, and there is no need to read them in chronological order. Indeed, I imagine that each reader will start with the topic of most immediate interest to them, and only then move into more unknown areas. It is there that the book will have its greatest impact, for there will be few people, I suspect, who will not find something new in these pages, which may then spark their interest sufficiently to follow it up with some further reading or research of their own. In my own case this occurred with the very first essay in the book which is on 'The Age of Discovery and St Helena's "Man in the Moon"'; never having known of St. Helena's role in one of the earliest works of science fiction in the English language, Francis Godwin's The Man in the Moone (first published in 1638, but probably written half a century earlier), I was inspired to go and read the novel itself for the first time, for which Trevor's essay provided the perfect introduction.
Editors of collected works do not always receive the credit that is their due, so I think it is worth putting on record the rigorous, yet sensitive way in which Alexander Schulenburg has edited this volume. Faced with a mass of very disparate material, he has made a careful selection of what to include, has verified the references, and has made some occasionally necessary updates and corrections, without ever appearing to intrude on Trevor's very distinctive style. That this book reads so seamlessly is very largely due to him.
Dr. Schulenburg has also provided an important introduction to the book which not only puts Trevor's writings and his contribution to the historiography of St. Helena into context, but faces up to some of the problems and limitations associated with his work. Renowned as an "ardent seeker of historical information and insights" (p.xiii) and as an authority on many aspects of island history, it may seem curious to some that Trevor's encyclopaedic knowledge was based very largely on printed sources, and that he very rarely ventured into the world of archival research; moreover most of his work was done before the internet revolution really took off. Research into many of the subjects he wrote about in these essays -family history is only the most obvious example – has been transformed in recent years by the latter development in particular, and one likes to think that, had he lived, Trevor would have embraced the new technology with enthusiasm. Yet I do not think he would be unduly perturbed by the thought that some of these essays are already being overtaken by new research, for he always saw his role as a facilitator, eager to encourage others to explore the highways and (more especially) byways of St. Helena's rich history. If reading these essays leads others to explore the topics in more detail then it will certainly have fulfilled its aim as Trevor envisaged it.
In the introduction to one of his volumes of collected works, P.G. Wodehouse wrote:
The great trouble with a book like this is that the purchaser is tempted to read too much of it at one time. … This is a mistake. I would not recommend anyone to attempt to finish this volume at a sitting. It can be done … but it leaves one weak and is really not worth doing just for the sake of saying you have done it. Take it easy. Spread it out. Assimilate it little by little.
Although Trevor's style and subject matter is very different to that of P.G. Wodehouse, I think these words are equally applicable to this volume. It is a book to take up and savour, a book to return to, and a book which contains stories of St. Helena's history which will delight, and occasionally surprise, all those with an interest in the island, whether they be 'old hands' or newcomers. Beautifully produced on high-quality paper, and with a plethora of well-chosen illustrations, it is a credit to the Friends of St. Helena who commissioned it and ensured its publication. It is a valuable addition to the ever-growing corpus of literature on St. Helena, as well as being a worthy memorial of Trevor himself.
1. Although it is customary in book reviews to refer to authors by their surname, I find that I always think of Hearl simply as 'Trevor'; as I imagine that is the case with the majority of Wirebird's readers I have decided to stick with his first name in this review.
It has been published in hardback, comprises 375 pages, 170mm x 235mm, b/w illustrations in text and index. THE BOOK CAN BE ORDERED NOW at the price of £25.00p. +postage. Please Order from Ian Mathieson MILES APART, Callender House, 90, Callender Street, Ramsbottom, Lancs BL0 9DU, UK. +44(0)1706 826467 Email: imathieson2000@yahoo.co.uk